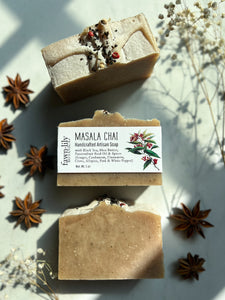 Scented with a delicious combination of essential oils reminiscent of spicy masala chai tea, this limited-edition soap is warming, uplifting, grounding, and makes you feel cozy all over!
Brewed with a base of organic black tea, naturally colored with powdered cinnamon, cardamom, ginger, allspice, and clove, scented with essential oils of cinnamon, clove, and ginger, topped with black tea leaves, pink and white peppercorns, and filled with a blend of nourishing organic ingredients including coconut oil, shea butter, passion fruit seed oil, olive oil, and sunflower oil, you're sure to love how this soap makes your skin feel!
Our artisan soaps are very gentle and nourishing on the skin, made with organic oils and butters, scented with pure essential oils (no fragrance oils) and naturally colored with botanicals (no artificial colorants). These lovingly handcrafted, cold-process, and vegan-friendly soaps are designed to moisturize while gently cleansing. And, these bars have been curing for over eight weeks, which means that they will be extra gentle, won't irritate skin, and are harder in density (making them last longer). They're truly luscious and such a treat to use!
Full ingredient list: black tea (brewed with organic black tea leaves), saponified organic coconut oil, organic raw extra virgin olive oil, organic sustainably harvested palm oil, organic sustainably harvested palm kernel oil, organic sunflower seed oil, organic raw unrefined shea butter, organic passion fruit seed oil, organic castor oil, organic cinnamon essential oil, organic ginger root essential oil, organic clove bud essential oil, powdered organic cardamom, powdered organic ginger, powdered organic cinnamon, powdered organic allspice, powdered organic cloves, organic loose-leaf black tea leaves, organic pink peppercorns, and organic white peppercorns.
Each bar weighs approximately 5 oz (at the time of cutting), and the packaging is completely biodegradable, recyclable, plastic-free, and made from recycled materials.
​Every bar of soap is unique! Handcrafted, poured, and cut by hand, which results in natural variances in size and appearance. And, unlike many other soaps (including natural soaps), there are no fragrance oils, synthetic colors, or other artificial ingredients in this soap. We only use pure essential oils to scent our soaps, and botanicals and clays for color. As a result, the aroma will be lighter and more subtle, and natural colors more muted than if synthetics were used. Please note that we make our soaps from scratch, so there may be natural variations from batch to batch.
/////////////////
Soap care: Place bar on a well-draining surface where it will completely air-dry between uses, and never leave it directly in the shower stream or in prolonged contact with water. This extra care will extend the life of your soap, and prevent it from becoming soft. You may also cut the bar in half, and store the extra amount until it's ready to use.
For educational purposes only. This information has not been evaluated by the Food and Drug Administration. This information is not intended to diagnose, treat, cure, or prevent any disease.
Please read Product + Ordering Info page before placing an order.