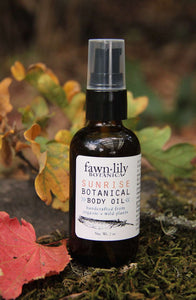 We're smitten with this blend!  The synergy of sweet orange, blood orange, bergamot, frankincense, turmeric, fresh ginger, pink peppercorns, and ylang ylang flowers creates an amazing and balanced harmony of citrus with hints of earth, sweetness, and spice.  Aromatherapeutic properties from the pure essential oils help cheer and uplift the spirits, ground, balance emotions, sooth, relax, and relieve feelings of tension, nervousness, and frustration. 
The base blend of plant-based oils naturally nourish, sooth, and moisturize for glowing, gorgeous skin.  May be used as a moisturizing body oil, for massage, or add to bath water.  Formulated to absorb easily into skin without leaving an oily feeling. 
This natural body oil is hand-crafted in small batches from organic and wild plant-derived ingredients. Contains no harsh chemicals, additives, fragrances, colorants, preservatives, or other synthetic ingredients - simply pure elements from nature. 
Suitable for all skin types.
.....................
Ingredients: organic sunflower oil,  organic extra virgin olive oil, organic macadamia nut oil, organic jojoba oil, organic hemp seed oil, organic avocado oil, organic argan oil, vitamin e oil (non-GMO), rosemary antioxidant, pure essential oils of organic sweet orange, blood orange, organic bergamot, frankincense, turmeric, organic fresh ginger, organic pink peppercorn, organic ylang ylang.
2 oz amber glass bottle with black treatment pump.  
To extend the shelf life, store in a dry, cool, and dark area. Direct light and heat will reduce the effectiveness and shelf life of the product.
Note: Some of the oils used in this product are very rich in fatty acids, and will naturally solidify in cold conditions. This is perfectly normal for these oils, and will not impact their quality or usage. If you wish to remove any solidified fats in your oil, the best way to do this is to place the entire bottle in a double boiler over low heat and allow the oil to slowly heat up. Once warm, any solidified particles will remelt.
For educational purposes only. This information has not been evaluated by the Food and Drug Administration. This information is not intended to diagnose, treat, cure, or prevent any disease.
Please read Product + Ordering Info page before placing an order.
Sunrise Botanical Body oil
This oil leaves my skin feeling soft and it is not too heavy or greasy. It has a nice light fresh smell