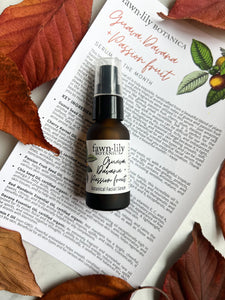 This limited-edition serum is a beautiful and enchanting tropical-themed facial oil featuring guava, passion fruit, and davana! Crafted with a blend of truly exquisite plant-based ingredients, this blend soaks into skin effortlessly, is nourishing, balancing, leaves skin feeling smooth, soft, dewy fresh, protected, and hydrated.
If you've looked at the list of ingredients on anything with a tropical aroma before, then you know that artificial fragrances are utilized to achieve that scent, not pure ingredients from nature. Instead of utilizing synthetic fragrances for this blend, we've chosen to only use natural ingredients. As a result, the aroma of this blend is not overpowering or cloyingly sweet. Rather, it has a pleasant and light tropical aroma with notes of guava and passion fruit that linger on the skin.
Not only does this blend smell incredible, but it is perfect for your skincare needs during this time of the year! You see, the transition from summer to autumn can be difficult for our skin to adapt to. Depending on where you live, there are some rather large changes happening in temperature, humidity, and other weather conditions, plus many of us spent a lot of time outdoors and in the sun during the summer months. Due to these factors, we may notice that our skin is becoming drier, and perhaps even itchy, irritated, flaky, chapped, and we may even break out with acne when we usually don't. These are all signs that our skin needs some extra nourishment, care, moisture, and balancing.
This blend is perfect because it is light, soaks in effortlessly, is very nourishing, balancing, and leaves skin feeling smooth, soft, dewy fresh, protected and hydrated. Plus, it is beneficial for all skin types and can be used in the morning as well as at night.
Here is more information about the beautiful ingredients featured inside this special serum:
Guava Seed Oil, unrefined: This is such a lovely and exotic oil, with a delightful tropical aroma that smells like fresh guava. Guava seed oil is light and non-greasy, protects, softens, and smoothes. A noncomedogenic oil that naturally contains antioxidants and linoleic fatty acid, this is a perfect oil for all skin types, including sensitive, mature, and acne prone skin.
Cherry Kernel Oil, certified organic: Belonging to the rose family, this incredible oil is pressed from cherry pits. It moisturizes and protects the skin, softens and nourishes skin cells, and naturally helps minimize the absorption of UV rays. This oil has therapeutic and protective properties, contains vitamin A, E, antioxidants, omega-6 and 9, tocopherols, and contains many other skin-loving properties. 
Plum Kernel Oil, certified organic: An excellent oil naturally high in vitamins E, C, and A, and containing very-long-chain fatty acids, antioxidants, and anti-inflammatory properties. Known to hydrate, brighten, repair, and plump skin while reducing the appearance of fine lines, wrinkles, and assisting with various skin irritations and conditions. A lightweight, noncomedogenic oil safe for all skin types including oily and acne-prone skin.
Passion Fruit Seed Oil, unrefined: An exotic oil which soothes, relaxes, and calms the skin, helps with collagen formation, benefits aging and dry skin as well as those with various skin conditions, and is very high in vitamin C.
Chia Seed Oil, certified organic: A very nutritive and nourishing oil exceptionally high in omega-3 fatty acids, amino acids, vitamins, and minerals with anti-inflammatory and antioxidant properties. This oil is known to assist with various skin issues, helps regenerate skin tissues, and to help with the treatment of acne.
Davana Essential Oil, certified organic: An extremely fragrant and somewhat rare oil prized for its exotic floral and fruity aroma, ability to balance energy, reduce anger, uplift the spirits, and release negative thoughts. Cosmetically, it soothes and balances the skin, and assists with blemishes.
Red Mandarin Essential Oil, certified organic: Red mandarin has a bright, cheerful, sweet, citrusy, and fruity aroma that relaxes, inspires, uplifts, and calms. Cosmetically, it benefits the skin and is especially helpful for oily complexions.
Vitamin E Oil, made from non-GMO sources: This powerful antioxidant helps smooth, condition, moisturize, and protect the skin. Beneficial for all skin types and for various skin conditions and irritations.
Ingredients: unrefined guava seed oil, organic unrefined cherry kernel oil, organic unrefined plum kernel oil, unrefined passion fruit seed oil, organic unrefined chia seed oil, vitamin E oil, organic red mandarin essential oil, and organic davana essential oil.
Size: 1 oz glass bottle with black treatment pump. 
 ..........................
How to use:  First, wash and dry your face with water or a gentle facial wash. Mist with 1-3 spritzes of facial toner and allow to air dry or gently pat dry with a soft washcloth. Finish by applying 1-2 pumps of facial serum.  Allow to absorb completely into skin before applying makeup or sunscreen. Use twice per day (morning/night) for best results.
If you are interested, but don't want to commit to a pre-order or subscription, please note that if we have any extra bottles after filling pre-orders, then they will be available on our website afterwards at a higher price.
To extend the shelf life, store in a dry, cool, and dark area. Direct light and heat will reduce the effectiveness and shelf life of the product.
Note: Some of the oils used in this product are very rich in fatty acids, and will naturally solidify in cold conditions. This is perfectly normal for these oils, and will not impact their quality or usage. If you wish to remove any solidified fats in your oil, the best way to do this is to place the entire bottle in a double boiler over low heat and allow the oil to slowly heat up. Once warm, any solidified particles will remelt.
For educational purposes only. This information has not been evaluated by the Food and Drug Administration. This information is not intended to diagnose, treat, cure, or prevent any disease.
Please read Product + Ordering Info page before placing an order.
The smell is amazing!
I subscribe to the serum of the month. I love them all! But once in a while, there is one that is just... awesome! GUAVA, DAVANA + PASSION FRUIT BOTANICAL FACIAL SERUM is one of them. The scent is unique, captivating, and kinda and lingers throughout my day. I LOVE this. I love all of them. calming, a moment that's just about me, nourishing.
Hi Leann, Thank you so much for the beautiful review! I'm so happy to hear how much you enjoyed this tropical facial serum, it really was a special blend! Your feedback is incredibly helpful, we truly appreciate it! Thank you again for the wonderful review and for your support of our small business. :)
- Irene (Owner + Maker), Fawn Lily Botanica