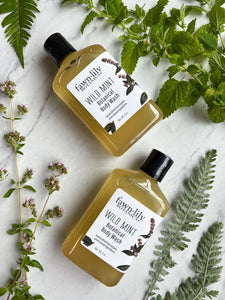 This is an uplifting, nourishing, and gentle botanical body wash made from a base of organic ingredients including aloe vera, plant-based oils and butters, essential oils, herbal extracts, and is scented with a blend of pure essential oils including wild mint, eucalyptus, peppermint, and rosemary to invigorate, uplift, and awaken the senses.
Our special body wash formula cleanses with natural plant-based ingredients without overly stripping and drying skin. We may sometimes need to take some extra showers during the summer, especially after going for a hike, bike ride, swimming, or working in the garden, and this body wash is perfect for ensuring that your skin doesn't get too dry or irritated by soap, yet feels clean and moisturized.
Try a drizzle on our ayate washcloth to exfoliate while washing!
.........................

Ingredients: certified organic body wash base (organic aloe vera juice, organic coconut oil, potassium hydroxide, organic olive oil, vegetable glycerin, organic sunflower oil, guar gum, rosemary extract, organic shea butter, citric acid), organic wild mint essential oil, herbal extracts of organic nettle leaf and organic calendula flowers, organic eucalyptus essential oil, organic rosemary essential oil, organic peppermint essential oil, organic cypress essential oil, and organic scotch pine essential oil.
Listing is for one 8oz bottle.
Suitable for all skin types.
.........................

To extend the shelf life, store in a dry, cool, and dark area. Direct light and heat will reduce the effectiveness and shelf life of the product.
For educational purposes only. This information has not been evaluated by the Food and Drug Administration. This information is not intended to diagnose, treat, cure, or prevent any disease.
Please read Product + Ordering Info page before placing an order.
Fresh scent
I have purchased several different varieties of Fawn Lily Botanica body wash and I love them all! They are all gentle and cleansing, but don't leave a residue like some other natural brands I've tried in the past. Also, I love the refreshing scent of the wild mint body wash. Thank you for the consistently high quality products that beautifully match the season.