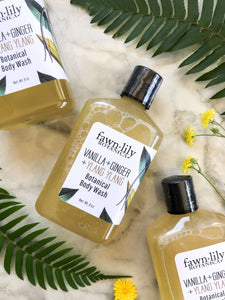 Scented with a delicious combination of ginger root, vanilla beans, and ylang ylang flowers, the scent of this natural body wash is uplifting, calming, warming, and just makes you feel happy! This nourishing and gentle botanical body wash is made with a base of organic ingredients including aloe vera, organic plant oils and butters, pure essential oils, and herbal extracts. This formula is gentle yet effective, cleansing but leaving skin feeling moisturized and balanced afterwards - not dry, irritated, or itchy. 
This natural body wash is quite concentrated - just a drizzle on a washcloth or sponge is needed to lather and last an entire shower/bath (try along with our ayate washcloth or one of our bath sea sponges!).
.........................

Ingredients: certified organic body wash base (organic aloe vera juice, organic coconut oil, potassium hydroxide, organic olive oil, vegetable glycerin, organic sunflower oil, guar gum, rosemary extract, organic shea butter, citric acid), organic vanilla oil, organic ginger essential oil (distilled from dried ginger roots), organic ylang ylang essential oil, organic fresh ginger root essential oil (distilled from fresh ginger roots), and herbal extracts of organic elder flowers and calendula flowers.
Listing is for one 8oz bottle.
Suitable for all skin types.
.........................

To extend the shelf life, store in a dry, cool, and dark area. Direct light and heat will reduce the effectiveness and shelf life of the product.
For educational purposes only. This information has not been evaluated by the Food and Drug Administration. This information is not intended to diagnose, treat, cure, or prevent any disease.
Please read Product + Ordering Info page before placing an order.
Beautiful product and love the scent
I love how this lathers up in the shower and the scent is nice. It's invigorating and helps me wake up in the morning. Beautiful product, highly recommend!
Hi Aymi, Thank you so much for the wonderful review! I'm thrilled to hear how much you're enjoying our botanical body wash and that it's been so helpful in the mornings :). Thank you so much for sharing!
Irene (Owner + Maker), Fawn Lily Botanica
Body Wash - Vanilla Ginger
The love how the body wash lathers, the only thing I wish is that the scent was a little stronger. Overall very nice.