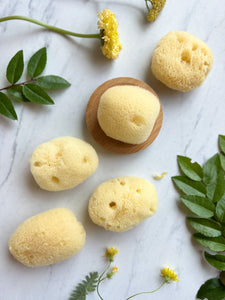 Silk sponges are considered the most luxurious sponges for facial care, and they are ideal for gently exfoliating and pampering skin on a daily basis.  These sea sponges harvested off the coast of the Philippines are very soft, but have larger pores and are more exfoliating than our silk sponges from the Mediterranean.
Suitable for all skin types, including those with sensitive and mature skin types. Sea sponges help cleanse, rejuvenate, and contain natural minerals which are beneficial for the skin. 
Silk sponges form naturally (not by machines!) and as a result, their shapes and sizes are unique and irregular. Approximately 2.5" in length, but sizes naturally vary.
Listing is for one sea sponge (unless otherwise denoted).
How to use: saturate thoroughly with cold water, and lightly apply using circular motions. If desired, add a small amount of facial wash. After using, rinse out the sponge completely with cold water, squeezing all excess water out (do not wring or twist as that can damage and break the fibers), and allow to air dry naturally. 
Responsibly harvested and a naturally renewable resource, these sponges are hand-cut by divers to ensure that enough of the base remains intact so that the sponge can regrow. Studies show that areas harvested actually increase the population density of sponges. Sponges are biodegradable, and can be added to the compost once they've reached the end of their life-cycle.
Silk sponge care: Every few weeks, cleanse and disinfect by soaking in one of these solutions for two hours: 10% white vinegar with water, or 5% hydrogen peroxide with water for two hours. then rinse completely and air dry. Do not twist or pull the sponge, as this may damage the fibers and tear it.  After each use, allow sponge to dry completely.  With proper care, silk sponges can last for months.
............................... 
For educational purposes only. This information has not been evaluated by the Food and Drug Administration. This information is not intended to diagnose, treat, cure, or prevent any disease.
Please read Product + Ordering Info page before placing an order.
Ddin't hold up
I really liked it but it split and fell apart after 4 uses. I was careful with it and didn't wring it dry but gently squeezed the water out too.