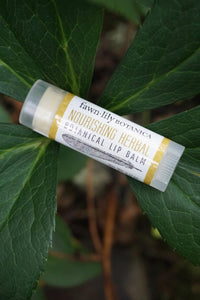 Extremely moisturizing, soothing, and gentle! This is the ultimate "go to" lip balm, perfect for any need or occasion (it can even be used on dry skin in a pinch).  The luxurious lip balm is handcrafted from a medley of incredibly nourishing plant-based ingredients including organic sunflower oil infused with lavender, calendula, and chamomile flowers, shea butter, unrefined coconut oil, rosehip seed oil, and jojoba oil. 
Many essential oils can irritate lips or cause photosensitivity.  With this unscented lip balm, there is no need to worry about that happening, and this lip balm can be reapplied as often as you'd like. 
An extremely conditioning and smooth natural lip balm made with natural, organic, and fair trade ingredients. This gentle blend is handcrafted in small batches with pure botanical and herbal elements. Contains luxurious and nourishing ingredients which offer protection from the harsh elements while providing beneficial botanical properties. 

.......................

Ingredients: organic and fair trade certified Cocoa Butter, pure Beeswax from U.S. honeybees, organic Sunflower oil infused with organic Lavender flowers, organic Calendula flowers, and organic Chamomile flowers, organic unrefined Coconut oil, organic unrefined Shea butter, organic Rosehip seed oil, organic Jojoba oil, and Vitamin E Oil (from non-GMO sources).
.15 oz oval shaped tube of lip balm.
Lip balm is susceptible to natural temperature fluctuations. It will naturally melt if left in the sun, a warm car, or shipped during warm weather. It will solidify once it cools, but this may affect the texture of the balm and cause it to become grainy. In cold weather conditions, fats naturally present in the butters and oils may solidify, also causing the lip balm to become grainy. Please note that although this affects the texture, it does not affect the quality or effectiveness of the lip balm.
Our lip balms do not contain sweeteners.
To extend the shelf life, store in a dry, cool, and dark area. Direct light and heat will reduce the effectiveness and shelf life of the product.
For educational purposes only. This information has not been evaluated by the Food and Drug Administration. This information is not intended to diagnose, treat, cure, or prevent any disease.
Please read Product + Ordering Info page before placing an order.
Soothing botanical lip balm
All the lip balms are great & truly the botanical lip balm is exceptional.
Hi Stacy,
Thank you so much for the wonderful review! I'm thrilled to hear how much you're enjoying our botanical lip balms! I agree that the nourishing herbal lip balm is extra special, it's one that I always keep on hand! Thank you so much for sharing your feedback, we truly appreciate it!
Irene (Owner + Maker), Fawn Lily Botanica
Nourishing Herbal Lip Balm
Fast shipment, wonderful product. Thank you!
Nourishing Herbal Lip Balm
Very nourishing. Great for the cold, dry winter months.
Nourishing Herbal Lip Balm
Best lip balm ever. Thank you!
Nourishing Herbal Lip Balm
In this day and age of mass produced, oft mislabeled "natural" skin care products, Irene and Fawn Lily Botanica are true gems. Her products are pure bliss. No more slathering petroleum on my lips. These lip balms are soothing, refreshing and light. Wonderful.