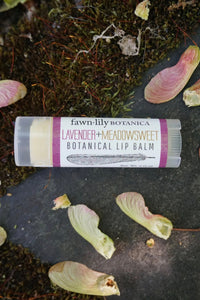 A luscious floral lip balm! This is one of our very favorite lip balms, it's soothing and feels so luxurious on the lips.  Handcrafted with an herbal oil infusion of organic lavender flowers and meadowsweet flowers, rich cocoa butter, nourishing meadowfoam oil, moisturizing coconut oil, and organic lavender and vanilla oils.  Truly a decadent floral treat!

An extremely rich, creamy, moisturizing, and smooth natural lip balm made with natural, organic, and fair trade ingredients. Nourishes lips with luxurious ingredients while offering protection from the harsh elements and providing beneficial botanical ingredients. This gentle and soothing blend is handcrafted in small batches with pure plant-based and herbal elements.

......................

Ingredients: organic Sunflower seed oil infused with organic Lavender flowers, organic Licorice root, and organic Meadowsweet flowers, organic and fair trade certified Cocoa Butter, pure Beeswax from U.S. honeybees, organic unrefined Coconut oil, Meadowfoam seed oil, organic Castor seed oil, organic Lavender essential oil, organic Vanilla oil, and Vitamin E Oil (from non-GMO sources).

.15 oz oval shaped tube of lip balm.

Lip balm is susceptible to natural temperature fluctuations. It will naturally melt if left in the sun, a warm car, or shipped during warm weather. It will solidify once it cools, but this may affect the texture of the balm and cause it to become grainy. In cold weather conditions, fats naturally present in the butters and oils may solidify, also causing the lip balm to become grainy. Please note that although this affects the texture, it does not affect the quality or effectiveness of the lip balm.
Our lip balms do not contain sweeteners.
To extend the shelf life, store in a dry, cool, and dark area. Direct light and heat will reduce the effectiveness and shelf life of the product.
For educational purposes only. This information has not been evaluated by the Food and Drug Administration. This information is not intended to diagnose, treat, cure, or prevent any disease.
Please read Product + Ordering Info page before placing an order.
Excellent Lip Balm
Hands down, the best lip balm I've ever found or used. I order it all the way from Tx. There's nothing like it on the market.
Lavender + Meadowsweet Lip Balm
As always, wonderful product and service!
Lavender + Meadowsweet Lip Balm
WOW! I absolutely love these lip balms! I got Hibiscus, Ginger & Rosehip Lip Balm / Lavender & Meadowsweet Flower Lip Balm / Nourishing Herbal Lip Balm. They are perfect in both texture and scent! They feel so creamy and heavenly on my lips! They are some of the BEST lip balms I have used and I've tried millions of lip balms! Definitely a customer for life! I can't wait to try the other products in this store, they look AMAZING! A+++ seller!
Lavender + Meadowsweet Lip Balm
My favorite lip balm ever. Smells glorious and superrrrrrrrr hydrating.
Lavender + Meadowsweet Lip Balm
My order arrived well packaged and quickly. I love the smooth light texture of this balm and dreamy sweet authentic lavender scent. It's everything I want in a lip balm. Thank you!