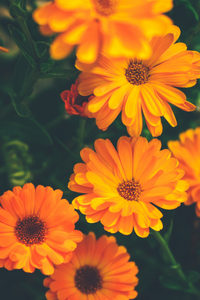 This is such a refreshing and lovely flower hydrosol, expertly distilled from certified organic calendula officinalis marigold blossoms! Calendula is a beloved and classic botanical for skin care, known to benefit and remedy a variety of skin conditions, irritations, discomforts, acute skin issues, and minor wounds. This hydrosol is so versatile and has many benefits! It can double as a skin toner as well as an herbal medicinal, useful for all skin types and a myriad of skin needs.
Calendula hydrosol naturally contains calming, soothing, rejuvenating, regenerative, balancing, cleansing, nourishing, purifying, and skin toning properties. It is very beneficial for all skin types, especially those with delicate, sensitive, irritated, damaged, or acne-prone skin. It can also safely be used by those of all ages.
The scent is light and delicate, with a refreshing aroma that is mildly sweet and floral. Fresh calendula flowers naturally have a light and distinct aroma, which carries through in this flower water.
This amazing hydrosol is preservative-free, distilled at low temperatures, completely natural, pure, and undiluted, with no additives.
Size: 2 oz glass bottle with mister top.
Ingredients: certified organic Calendula Flower Hydrosol distilled from calendula officinalis marigold blossoms (pure and preservative-free). Distilled in and imported from France.
How to use:  First, wash and dry your face with water or a gentle facial wash. Mist with 1-3 spritzes of hydrosol and allow to air dry. Finish by applying a facial serum/moisturizer. Use twice per day (at morning/night). This hydrosol can also be applied as an aftershave, added to bath water, and misted onto minor skin conditions, irritations, and wounds as needed.
To extend the shelf life, store in a dry, cool, and dark area. Direct light and heat will reduce the effectiveness and shelf life of the product.
For educational purposes only. This information has not been evaluated by the Food and Drug Administration. This information is not intended to diagnose, treat, cure, or prevent any disease.
Please read Product + Ordering Info page before placing an order.